18 Winter Vacation Ideas to Get a Head Start on Your Planning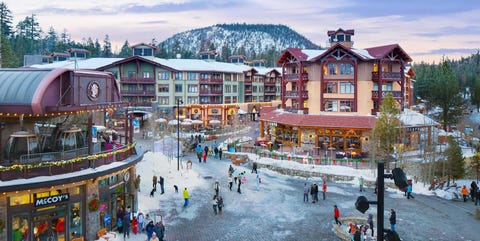 Courtesy
When it comes to winter weekend getaways, it's all about making the most of the cold conditions. Once you marry magical ice and snow with cushy amenities like roaring fireplaces, access to fresh powder, or a glistening ice-skating rink, the season will feel vibrant and full of fun. Whether you're looking for a snow-filled ski retreat, an ice fishing adventure, or a cozy cabin to hide out in, these 18 enchanting destinations offer something special for every type of seasonal traveler, even if you're not a "winter person" per se. With a couple of warm escapes peppered in because, hey, there's never a bad time to take a jaunt in the sun.
Advertisement – Continue Reading Below
1 Wheatleigh
Originally built in 1893, this stately Italianate mansion-turned-boutique hotel feels akin to a European chalet come winter. Picture crackling fireplaces, warm wood accents, and an intimate vibe—there are just 19 rooms on property—plus scenic views of the Berkshires. A number of nearby trails are great for snowshoeing, cross-country skiing, and snowboarding.
Lenox, Massachusetts
READ REVIEWS BOOK NOW
2 The Lodge at Woodloch
Next to moving to a Caribbean island for the winter, there few things that make you feel more alive than warming up in the winter in steaming outdoor hot tub, surrounded by snowy pines and drifting snowflakes. The brisker months are full of activity at this 57-room spa resort, including signature spa treatments like the Restorative Herbal Massage using Hot Poultices, the new Blues Be Gone Treatment (perfect for deflecting the winter blues) or the new FLOAT Therapy offering. Outdoor Adventures take full advantage of the beautiful scenery with winterized forest bathing (don't worry, it has nothing to do with unclothed bathing) cross-country skiing, snowshoeing and even ice-fishing on the property's shimmering lake. If sweating amidst cold temperatures isn't in the bag, stay inside and try the new Indo-Row classes, with wooden rowing machines powered by water resistance.
Hawley, Pennsylvania
READ REVIEWS BOOK NOW
3 The Whiteface Lodge
If the nightly S'mores around a campfire aren't enough to draw you to this picturesque woodland lodge in the High Peaks of the Adirondacks, the cozy fireplaces in-suite, the warm homemade cookies at turndown, and the 86 trails at the nearby Whiteface Mountain will do the trick. After a day in the snow, you can cuddle under a wool blanket in one of two handcrafted lean-tos to gaze at the stars and enjoy whiskey flights and hors d'oeuvres by the fire. Too chilly for you? Head inside to see a movie in the lodge's 56-seat movie theater or knock down some pins at the two-lane bowling alley.
Lake Placid, New York
READ REVIEWS BOOK NOW
4 The Lodge at Spruce Peak
Four words: ski-in/ski-out. That alone would be enough to win the hearts of many convenience-seeking skiers and snowboarders, but it also helps that the gondola to the slopes of Mount Mansfield and Spruce peak is just steps from this full service resort and spa. Also on the wintry agenda if you're interested: dogsledding, ice climbing, and sleigh rides. But if you aren't a fan of the great outdoors, you can stay off the slopes. Take a dip in the heated outdoor pool, read by the stone fireplaces, relax at the 21,000 square foot spa (there's a list of services just for kids under 12), or just take a romp outside with your own pooch. (Yup, this is a pet-friendly hotel for pooches up to 100 pounds.) The studios and suites feature a gas fireplace and a private balcony. Bonus: every room as the fluffiest duvets imaginable.
Stowe, Vermont
READ REVIEWS BOOK NOW
5 Amangani
The reopened Amangani is an all-seasons resort with its own private ski lounge at the foot of Rendezvous Mountain. Whether guests are opting to ski, or indulge in other winter activities like sledding and sleigh rides, there are plenty of amenities to go around for visitors. Indulge in complimentary meditation sessions or dine at the restaurant on farm-to-table cuisine under the backdrop of snow-capped peaks.
Jackson Hole, Wyoming
READ REVIEWS BOOK NOW
6 Botswana
January, February, and March are know as the "Green Season" or "Season of Plentiful Life" in Botswana, because of the volume of wildlife on display. It's also the perfect place to practice your New Years resolution of spending less time on your digital devices. Wilderness Safaris has an initiative called "Disconnect to Reconnect" with Wi-Fi free zones in the main areas but access in the tents. The Wilderness Safaris brand, which is dedicated to the community and eco-tourism, while providing a totally luxurious experience, recently rebuilt two camps: Jao Camp & King's pool, both of which are 100 percent solar powered. In 2020, DumaTau Camp & Little DumaTau will open in northern Botswana.
Wilderness Safaris BOOK NOW
7 Detroit, MIchigan
Detroit is having a moment—it's where all the hipsters who are being priced out of Brooklyn are moving to pursue cool, creative ventures. Winter, it turns out, is also a great time to visit. There's the Downtown Detroit markets during the holiday season, with local entrepreneurs selling their goods in glass kiosks. There are hip bars, cool–and affordable—restaurants, a huge ice skating rink, and the new, chic Shinola Hotel. Try to coordinate around Winter Blast Weekends—a major festival transforming downtown into a winder wonderful with live entertainment, ice sculptures, activities including free ice skating, ski/ snowboard lessons, a polar plunge, and more.
Shinola Hotel
READ REVIEWS BOOK NOW
8 Riviera Maya, Mexico
While you fly into Cancun—an easy non-stop flight from the East Coast—the Riviera Maya feels a world away from the bustling city and nightlife that makes Cancun a favored spring break destination. Head for the white sand beaches and clear blue waters of this lush part of the coastline. The Fairmont Mayakoba, a AAA-5 Diamond and Rainforest certified all-inclusive, family friendly resort has everything you'll need for a long weekend getaway. Book a two tour hour trip on the property's VanDutch yacht (the perfect way to see the rainforest and all the wildlife), or opt for a full day day aboard the vessel that includes an open bar, saloon, and snorkel equipment.
Fairmont Mayakoba
READ REVIEWS BOOK NOW
9 Greenough, Montana
For the ultimate winter wonderland getaway, look no further than Montana and one of the West's premier luxury ranch resorts, The Resort at Paws Up, which is easily accessible from the Missoula airport. Set on 37,000 acres of sprawling landscapes, there's dogsledding, skijoring (skiing while being pulled by a horse), snowmobiling, snowshoeing, snow tubing—you get it, basically for any and all snow-related activities this is the place. Winterfest, a culinary event, takes place over Valentine's Day (February 14th to 17th) and features some of the country's most sought after winemakers and chefs who prepare winter-themed feasts with wine pairings.
The Resort at Paws Up
READ REVIEWS BOOK NOW
10 The Galapagos
The early winter months are the ideal time to travel to the Galapagos with greenery emerging, warm and sunny days, but the waters are still cool for long snorkeling sessions. It's also prime breeding season so expect a lot of wildlife encounters. A Relais & Chateaux property, Pikia Lodge is known as the most luxurious and exclusive hotels in the Galapagos Islands—it's perched between two inactive volcanos in the heart of a private wild giant tortoise reserve. With only 14 suites, it's an intimate experience. The only hotel in the Galapagos to own its own yacht, Pikia Lodge is the height of exclusivity.
Pikia Lodge
READ REVIEWS BOOK NOW
11 Middleburg, Virginia
About an hour outside of Washington, D.C., you'll find Virginia wine country and Middleburg, VA, which is known for its English heritage and excellent hospitality. Leading the pack on that front is 18-room Goodstone Inn & Restaurant, an upscale, romantic country inn which features innovative twists on French and Belgian fine dining. The property has its own farm and a wine cellar. which this year won a Wine Spectator Award of Excellence (one of 270 restaurants globally). The Middleburg Hunt has branded Middleburg, Virginia 'horse country' for the D.C. elite, where even public and private lands are legally open to riders.
Goodstone Inn & Restaurant
READ REVIEWS BOOK NOW
12 Antigua
Antigua has a lot going for it—to start, it's a non-stop flight from New York City, making it perfect for a long weekend. This year, Curtain Bluff, one of the island's most beloved properties, will be unveiling 12 renovated Bluff Suites The island of Antigua offers 365 different beaches—giving beach lovers basically unlimited options. Added incentive: From January 1-31st, Curtain Bluff is offering a BRR 20% Off Special–with all gourmet meals and top-shelf drinks included in the rate.
Curtain Bluff
READ REVIEWS BOOK NOW
13 Portland, Oregon
If the collision of a beer and coffee festival isn't enough of a reason to draw you to Portland in January (it's called the Northwest Coffee Beer Invitational and takes place on January 25, 2020), here are some other reasons. The Portland Winter Lights Festival (February 6-8, 2020)—an annual event of the Willamette Light Brigade, Winter hikes at the Hoyt Arboretum. Washington Park, just two miles west of downtown, and is easily accessible by bus or light rail, of miles of scenic hiking trails. Enjoy everything downtown Portland has to offer with a stay at The Porter Portland, which has a rooftop bar with panoramic views of the mountains and is located in the thriving Fountain District.
The Porter Portland
READ REVIEWS BOOK NOW
14 Florence, Italy
Skip all the crowds, but get all the holiday spirit in Florence. The winter months are a great time to visit this Tuscan city. You won't be elbowing a million tourists on the Ponte Vecchio and Florence has a magical feel with the Christmas decorations and markets. Hotel Lungarno, owned by the famous Ferragamo shoe family, overlooks the Ponte Vecchio, was completely renovated in 2017 (many of the rooms have terraces looking out over Renaissance masterpieces) and is home to Borgo San Jacopo, a Michelin star restaurant right in the heart of Florence.
Hotel Lungarno

READ REVIEWS BOOK NOW
15 Raton, New Mexico
Located on 550,000 acres of pristine wildlife in Northern New Mexico/Southern Colorado is Vermejo, a Ted Turner Reserve, the largest property within media mogul Turner's hospitality brand. With a deep focus on conservation—Turner's passion—Vermejo is home to a number of restoration projects including the American bison and Rio Grande cutthroat trout. There are also ample creature comforts—five-star accommodations, world-class spa treatments, and fine dining. In the winter, there's a pine Christmas tree hunting expedition and stargazing & Santa searching by the campfire. And no-skiing required!
Vermejo, a Ted Turner Reserve
READ REVIEWSBOOK NOW
16 Santa Barbara, California
Santa Barbara could be the crown jewel of California, with its charming downtown, beaches, and intimate, luxurious feel—it's not wonder so many celebrities, like Oprah, flock to this part of this state. For a winter jaunt, Santa Barbara temperatures are mild (between 50 and 70 degrees). The Four Seasons Resort The Biltmore Santa Barbara is one of the areas most elegant hotels in the area and has festive event that include a holiday night market, cooking making class, speakeasy 1920s event, and special holiday spa treatments—all in addition to their ocean front facilities.
The Four Seasons Resort The Biltmore Santa Barbara
READ REVIEWS BOOK NOW
17 Palm Beach, Florida
January, February, and March are an excellent time to visit the Palm Beaches. In addition to beaches and world-class shopping, there's a lot of for culture vultures, including the Flagler Museum, the Kravis Center for for Performing Arts, the Nortom Museum of Art, and the Japanese Gardens. The Brazilian Court Hotel, located in the heart of downtown Palm Beach (just steps from the famous Worth Avenue) recently finished its first renovation in over a decade. Come for the lush gardens, the Daniel Boulud Cafe, and the palm fringed pool.
The Brazilian Court Hotel
READ REVIEWS BOOK NOW
18 Jamaica
With a plethora of luxury hotels and sunshine, Jamaica is a great winter break destination. This time, head for the island's northeast coast in Port Antonio, also known as the Jamaican Riviera, for the Trident Hotel—a favorite among Hollywood celebrities and British royalty. The property has thirteen oceanfront villas with modernist design, private terraces, and pools.
Trident Hotel
READ REVIEWS BOOK NOW
This content is created and maintained by a third party, and imported onto this page to help users provide their email addresses. You may be able to find more information about this and similar content at piano.io
Advertisement – Continue Reading Below
---
#Absolute
#Advanced